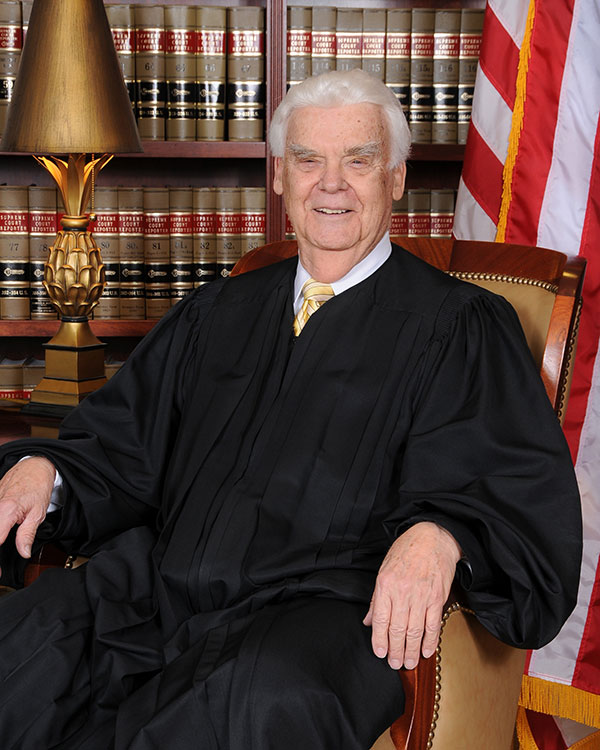 With sadness and profound admiration for a life well-lived, we are sharing the news of the passing of the Honorable Sam A. Crow on December 2, 2022.
Judge Crow was born on May 5, 1926, to Topeka couple, Sam W. and Phyllis Crow. Growing up in the Great Depression, Judge developed a keen appreciation for Christmas and the holiday season. As a child, Judge was an avid animal lover who helped his father raise racing pigeons and who rode horses at every opportunity. As a junior high schooler, Judge Crow saved his money to buy a horse from a packing company, somehow convinced it to walk home with him, and surely to his parents' chagrin, relocated the family vehicles outside to house his new pet horse in the warm garage. Following high school and during World War II, Judge Crow did not wait to be drafted but instead enlisted into the Navy in 1944. Following this military service, Judge returned to Kansas to pursue a pre-med degree at Kansas University, and met his beautiful wife, Ruth, who would become a nurse.
In 1949, Judge Crow decided to pursue a law career instead of a medical one and enrolled in Washburn University School of Law. While attending law school, Judge Crow was also a dedicated husband and young father of two boys who spent his afternoons clerking and his nights manning a Santa Fe rail station, studying by the light of a gas lantern. It was during law school that Judge began his decades-long, close friendship with Robert J. Dole. Following graduation, Judge Crow served as a JAG officer at Fort Leavenworth and then worked at Kansas law firms, establishing himself as a respected trial attorney.
Judge Crow aspired to be a federal judge. At the pinnacle of his career, on November 24, 1981, President Reagan nominated Judge Crow to a District of Kansas seat vacated by Frank G. Theis. He was confirmed by the Senate on December 9 and received commission on December 10, 1981. On November 15, 1996, at age 70, Judge Crow assumed senior judge status. Judge maintained a robust caseload and managed a full chambers until just this year when he transitioned to inactive senior status.